Investing With Purpose
Published by Career Press and Brilliance Audio.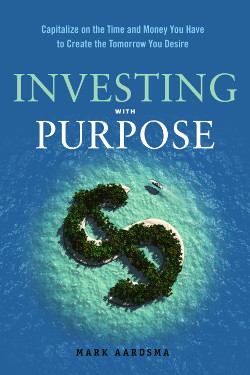 A book about discovering what you want most, and investing your time and money to make it come true.
Now Shipping (and Downloading)
From Reader Reviews
"It was not what I thought it'd be, and it has made me start thinking."
"He has used his own story in a very vulnerable way to show the way for those who desire to do more with their lives, both personally and economically."
"His stories are told with vivid details, and the illustrations help bring the stories and ideas together in a way that is easy for everyone to understand. This is not your average investment book."
"This book helps you shift your mind to what it really means to be an investor. If you're looking for a flash in the pan book on investment this isn't it – but if you're looking for how to train your mind in the discipline of being an investor – buy it now!"
"In a highly engaging manner, Mark Aardsma provides practical and proven approaches to creating a fulfilling life and pursuing your personal vision."
Videos about The Book
A quick intro and who the book is for.
A story from Chapter 3.
One of my favorite radio interviews covering topics from the book.
How you can give a free copy of the book, with a note from me, to someone you believe in.
After you've read the book, nominate someone here.
Description
At age 24 Mark was laid off, with just a few thousand dollars in savings. Instead of looking for a new job, he sat down in his basement and began investing his time and money differently. Over the next ten years he multiplied his savings a thousand fold into a multi­million­ dollar portfolio of businesses and other investments.
Along the way he reflected on what was working and why, and made notes that became his personal guide to investment decisions. Investing With Purpose is that guide, expanded for a broad audience of people who aspire to a bigger future.
Investing With Purpose ​explains and illustrates investing rules like:
Link every investment decision to a clear and intentional vision of the long­-term future you want to create.
Use all your resources. Investing existed long before the invention of money, and applies to your most precious resource ­ time.
Avoid the emotional pitfalls that lead smart investors to bad decisions.
Face fear and take risks to capitalize on your best opportunities.
Develop and apply your unique investment advantages – the only reliable path to superior returns.
Whether your goal is to get rich, improve the neighborhood, or save the rainforest, the advice in this book will help you get there.
You can order the book here. Investing With Purpose – On Amazon or on Barnes & Noble.