November 23rd, 2013 — 1:16pm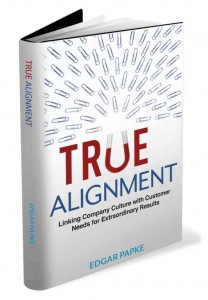 Edgar Papke is a speaker, consultant, and a remarkably generous mentor to me. I'm a big fan of his life's work around how leaders can align customer emotion, brand strategy, company culture, and leadership style for exceptional results. His book, coming out now, offers a clear framework for understanding any organization, regardless of their strategy and style. It doesn't advocate one style, it steps back and explains how each style fits particular competitive strategies best. Here's a link to the book on Amazon.
I've been privileged to learn and practice the content of this book before it was a book – from speeches, workshops, and one-on-one conversations with Edgar. Because Edgar has more opportunities than he can fit in his schedule, I will also be presenting and consulting based on this book.
If you lead an organization I suggest you read this book. If you want to go deeper with it in your organization, I invite you to contact me. As always, my intention is to share what I've been given and contribute something to your success.